Pin and Socket Probe Kit for CT100B and CT100HF
Precision adapters for use with the high-resolution MOHR CT100B/HF TDR Cable Analyzers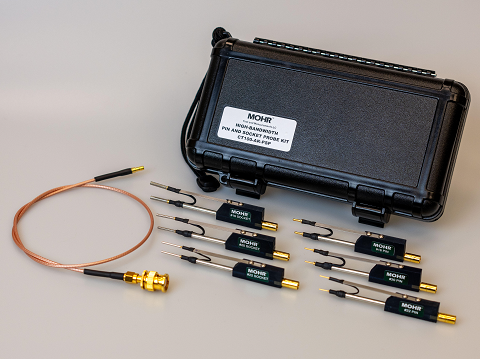 The MOHR Pin and Socket Probe Kit consists of impedance matched, high bandwidth, adjustable pitch probes in all common pin and socket contact sizes for MIL-Spec, twisted pair, and other connectors. Designed for use with the MOHR CT100 Series TDR Metallic Cable Testers, each kit features eight handheld probes covering the most commonly used connector contact sizes, a flexible adapter cable, and BNC/SMA adapters in a rugged waterproof case.
Key Features
High bandwidth probes maintain signal integrity
Adjustable pitch for all connector spacings
Impedance matched for Mil-Spec Connectors
Allows for rapid testing of multiple contacts and pairs
Dimensions
8.67(L) x 5.1(W) x 2(H) in.
(22 x 13 x 5 cm)
Weight
15.5 oz (438 g)

Datasheet

Pin and Socket Probe Kit Datasheet
Specifications
Contacts:
All contacts meet M39029 Specifications
Sizes:
#22 Pin
#22 Socket
#20 Pin
#20 Socket
#16 Pin
#16 Socket
#12 Pin
#12 Socket
Extension Cable:
M17/113-RG316 18" Coaxial Cable SMA Male Connector
SMA-BNC Adapter
Electrical:
Impedance:
50 Ω
High Quality Connectors Matter
The picture below shows the difference in signal quality when using different connectors. The red trace was made using common "alligator clips" while the black trace shows a scan using the MOHR high-bandwidth Pin and Socket Probes. The minimal impedence change through the adapter maintains the ability of the instrument to resolve details in the cable being measured.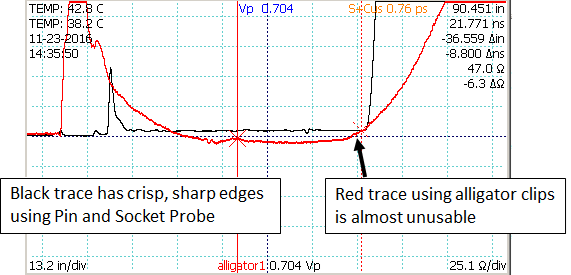 The connection at the beginning and the open at the end of the cable are difficult to identify with the alligator clips, while the entire trace is crisp and sharp with easily recognized features when using the MOHR Pin and Socket Probes.

---
How to purchase
For purchasing options, please visit our How to Buy page.