TRB Differential Adapter Kit for CT100B
Precision adapter for use with the high-resolution MOHR CT100B TDR Cable Analyzer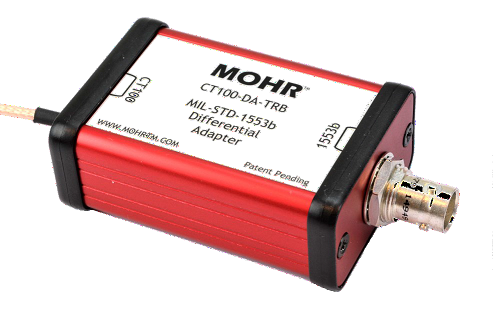 The MOHR CT100-DA-TRB Differential Adapter allows for low-loss differential TDR measurements of installed 1553B systems by connecting directly to the TRB-terminated cabling standard on many buses and/or stubs of installed systems.
MOHR's Differential TDR signal adapters redefine the limits of single-ended TDR's by creating a high-resolution differential TDR signal that matches the systems under test. The MOHR CT100-DA-TRB allows accurate, high-resolution cable impedance measurements in multi-conductor systems such as sensor networks, data bus harnesses, network and communications cables.
The CT100-DA-TRB ensures maximum signal integrity by connecting directly to the vehicle or system under test without the need for adapter harnesses or test sets.
Dimensions
4.25(L) x 2.25(W) x 1.1(H) in.
(11 x 6 x 3 cm)
Weight
4 oz (110 g)
Datasheet

TRB Differential Adapter Kit Datasheet
Key Features
Connects directly to twinaxial and triaxial cabling
Differential characterization of cable assemblies
Fault Detection from stub end of MIL-STD-1553B Buses
Through-transformer measurement of MIL-STD-1553B Databus
Measurement range independent of number of transformers
Rapid analysis of compression damage and soft faults
Small, lightweight and rugged
Passive device, no additional power required
Specifications
Insertion Loss
<1dB across operating range
Test Connector
TRB
Temperature
-20C to +60C
Extension Cable
RG316 36" Coaxial BNCm to MMCXf
---
How to purchase
For purchasing options, please visit our How to Buy page.