CT100 Automated Metallic TDR Cable Tester Comparison:
CT100B vs. CT100S vs. CT100HF
All of the MOHR CT100 Series Automated Metallic Time-Domain Reflectometer (TDR) Cable Testers combine next-generation advances in time-domain reflectometry with labor-saving software features, long battery life, a bright color screen, and industry-leading ergonomics.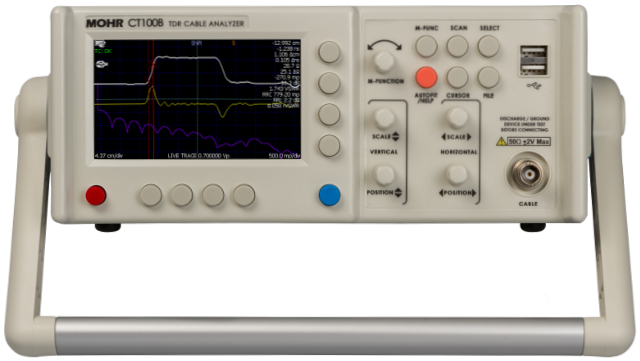 Since there are three models available, how should one choose between them?
Common features of all CT100 models:
Fast step-rise signal provides spatial resolution that is at least 8-10 times sharper than most competing devices.
Horizontal cursor resolution of 0.76 ps, regardless of cable length, 100-1000 times better than other portable devices.
Sequential sampling rates up to 250 kHz (500 full TDR frames/sec) lets you capture transient cable impedance changes and implement sophisticated digital filtering.
Get easy differential measurements with the CT100's dual cursors.
Store cable scans in the built-in file system or off-loaded to the CT Viewer 2 software.
Apply math transforms to scanned and live TDR waveforms: subtraction/difference, 1st derivative, and more.
Envelope Mode helps with Intermittent Fault Detection.
The CT100B is the standard model. It comes with a BNC connector. The CT100S is the same as the CT100B, except that the BNC connector has been replaced with an SMA connector. The CT100HF looks like the CT100S, but some of the internal circuitry has been changed to provide a faster rise time, better for testing high-frequency cables.
Unique features of the devices:
60 ps 20-80% reflected risetime for the CT100HF vs. 100 ps risetime for the CT100B and CT100S.
CT100B and CT100S internal circuitry is more resistant to electrical damage than the CT100HF.
The BNC connector on the CT100B automatically shorts the cable as it is being attached to protect the internal circuitry even more.