IEEE-1394b Firewire Automated Test Set for TDR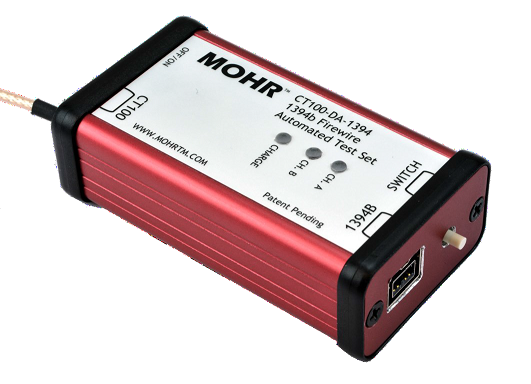 Key Features
Designed for use with the high-resolution CT100B TDR Cable Tester
Ideal for TDR testing IEEE-1394b/SAE AS5643/Firewire aerospace cable assemblies
Detect and localize open, short, and partial cable and connector faults
Simplifies troubleshooting of aircraft cable assemblies
Manual or software-controlled switching between the data pairs in the cable
Automatic acceptance or rejection using the MOHR™ CT100B's trace masking software
Small, lightweight, and rugged
Internal Battery or USB Powered (60+ hours battery life)
---
How to purchase
For purchasing options, please visit our How to Buy page.
Specifications
Switch Lifetime
50,000 push button cycles; 1,000,000,000 software controlled actuations
Frequency Range
DC to 1.2 GHz
Input Connectors
MMCX (kit includes cable to connect to CT100B) + mini-USB (for power and optional control)
Output Connector
9 Pin 1394b Firewire
Temperature
0°C to +70°C
Battery
500 mAh Li-ion (60+ hour battery life)
Enclosure
Rugged Aluminum Case
Dimensions
3.25 x 1.75 x 1.0 in.
(8.3 x 4.5 x 2.6 cm)
Weight
2.9 oz (82 g)
Regulatory


Complies with all applicable EU directives, as specified by the Declaration of Conformity supplied with the instrument.
Datasheet

IEEE-1394b Firewire Differential Adapter Automated Test Set Datasheet
Application Note

AN-2017-1 Testing IEEE-1394 Firewire Using CT100B and a Differential Adapter