EFP-RD-UPS 24VDC Uninterruptible Power Supply (DC-UPS) / Battery Backup
Rugged Backup Supply for 4-20 mA Loops
The new panel-mount EFP-RD-UPS is a rugged 24 VDC Uninterruptible Power Supply (DC-UPS) / Battery Backup device designed to support 4-20 mA loops or other low-power DC loads for extended periods of time following loss of normal AC or DC power.
EFP-RD-UPS Key Features
Precision 24 VDC UPS for extended battery backup
Powers typical 4-20 mA loops for at least 12 days
Redundant battery packs and charging circuits for added reliability
Seismic category 1 qualification (14 g RRS)
Weatherproof, robust environmental qualifications
Ideal for use with mission-critical applications
Reliable Power for 4-20 mA Loops
The EFP-RD-UPS provides reliable power for 4-20 mA loops or other low-power DC loads for far longer and more reliably than traditional UPS or battery backup devices. This allows 4-20 mA instrumentation for process control or other mission-critical applications to continue operating during power outages or following natural disasters.
Flexible Power for a Variety of Low-Power DC Loads
The EFP-RD-UPS can also support a variety of low-power external DC loads up to 8W, including alarms, relays, displays, controllers, and sensors. High-efficiency power regulation ensures optimum battery life that tracks essentially linearly with load, up to 12 days or more.
Rugged Performance for Any Environment
Wall-mount stainless-steel NEMA 4X enclosures are designed to survive almost any environmental conditions. Tested to meet stringent NRC seismic, shock, vibration, temperature, humidity, and EMC requirements for surviving beyond-design-basis (BDB) nuclear plant events.
Simple Setup and Operation
Plug-and-play operation
Automated intelligent charging
Bumpless/seamless transition to backup power
Daisy-chain supplies for additional capacity
Multiple Configuration Options
Universal 85-264 VAC (47-63 Hz) power input
Secondary 9-36 VDC power input
Optional external alarm relays
Optional RS-232 serial interface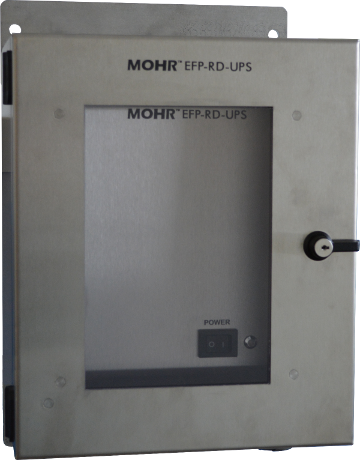 Mechanical
EFP-RD-UPS Controller:
30.5(H) x 25.4(W) x 21.0(L) cm
(12.0 x 10.0 x 8.3 in.)
12.7 kg (27.9 lbs.)
Panel/Wall or Unistrut P1000 mounting
EFP-BAT-44000 External Battery Enclosure:
30.5(H) x 35.6(W) x 16.0(L) cm
(12.0 x 14.0 x 6.3 in.)
18.9 kg (41.6 lbs.)
Panel/Wall or Unistrut P1000 mounting
Environmental
Operating Temperature: -10°C to +55°C
Non-operating Temperature: -20°C to +85°C
Regulatory
Tested to meet the following standards:
IEEE 344:2004 Seismic (14.0 g SSE, 9.8 g OBE)
IEC 60068-2-27 Shock
IEC 60068-6-8 Vibration
EPRI TR-102323-R3 EMC (Non-Safety)
Designed to meet applicable sections of the following standards:
MIL-STD-108 Environmental
MIL-S-901D Shock (High Impact)
MIL-STD-167-1 Vibration
MIL-STD-461F EMC
MIL-STD-810G 509 Salt Fog
MIL-STD-810G 511.5 Explosive Atmospheres



Complies with all applicable EU directives, as specified by the Declaration of Conformity supplied with the instrument.
Complies with Canadian ICES-003.
Datasheet

EFP-RD-UPS Datasheet (7/2/14).
---
How to purchase
Please contact us for more information.