Welcome to MOHR
For more than 35 years, we've provided our customers with innovative sensor technologies and dependable engineering consulting expertise. Some of our products and services are described below. Please contact us for more information.
World's Best Portable Metallic TDR
---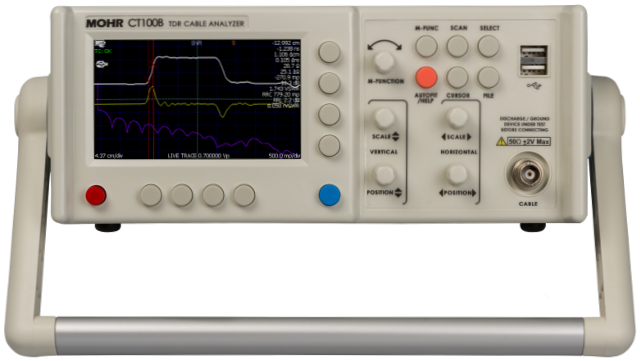 The CT100B* TDR Cable Analyzer is the industry's highest-resolution portable TDR, ideal for precision testing of all types of coaxial, twisted-pair, and multiconductor cables and connectors. The CT100B is the only metallic cable TDR with frequency-domain analysis tools including Return Loss (S11), Cable Loss (S21), and Smith charts.
The CT100B is the only portable instrument
exceeding
all TDR performance specifications of the popular
Tektronix® 1502/1502B/1502C
TDR.
See comparison.
TDR Specifications
20-80% risetime as low as 60 ps in the CT100HF
Up to 8 GHz test bandwidth in the CT100HF
500 Hz framerate for detecting transient faults
75 µm (0.003 in) cursor resolution
16-bit impedance measurements
Key Features
Rugged, lightweight, portable
Bright color screen, long battery life
2+ GB storage for saving traces and configurations
USB, 10/100 Ethernet PC connectivity
USB keyboard, thumbdrive, barcode reader
*CT100B is the latest model in the CT100-series of TDRs from MOHR.
---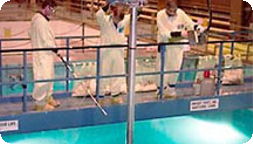 EFP-IL SFPI System for Spent Fuel Pool Level Instrumentation
Meets all NRC Order EA-12-051 requirements for Spent Fuel Pool Instrumentation (SFPI).
Precision remote water level measurement up to 1000 ft. from the pool.
Accurate in boiling / frothing environments.
Long life at elevated temperatures and pressures.